Zegar słoneczny jest najstarszym znanym urządzeniem do pomiaru czasu i najstarszych instrumentów naukowych. Już w mitach mowa o słońcu jako o wędrowcu, przemierzającym nieboskłon. Regularność wędrówki uchwycono i zastosowano do pomiaru czasu. Działanie zegarów słonecznych opiera się na zasadzie, że cień rzucany przez zainstalowany obiekt przesuwa się z jednej strony do drugiej tak jak słońce porusza się ze wschodu na zachód w ciągu dnia.

W Toruniu postawiono kilka zegarów słonecznych przy czym niektóre z nich już nie istnieją lub są zniszczone.
Znajdują się one w następujących miejscach:
Zegar słoneczny wertykalny na frontowej części Ratusza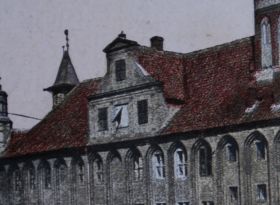 NIEISTNIEJĄCY
obecnie nieistniejący wykonany w drugiej połowie XVIII wieku.

Na tej samej fasadzie Ratusza ale w górnej jego kondygnacji znajdował się od około roku 1740 do około 1903 zegar słoneczny służący do regulacji zegara mechanicznego. Dziś wiadomo o tym zegarze z rysunków wykonanych w albumie tzw. Pseudo-Steinera z 1756 roku.
Zdjęcia zegara znajdują się również na starych widokówkach.
Można spotkać widokówki z 1910 z zegarem słonecznym pochodzą one ze starej matrycy wykonanej przed 1903 rokiem.

Zegar słoneczny znajdujący się na południowej elewacji Kościoła Świętojańskiego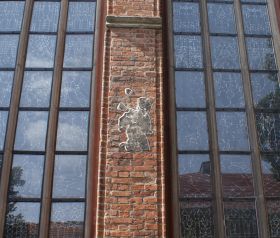 NIEISTNIEJĄCY
na drugiej od wschodu podporze. Obecnie niestety został po nim ślad na tynku ponoć jeszcze niedawno tkwiła tam jeszcze wskazówka rzucająca cień. Zegar ten ponoć został wykonany przez samego Mikołaja Kopernika. Wykonanie jego datowane jest na XV wiek jednak możliwe że zegar ten powstał wcześniej ponieważ od 1433 roku funkcjonował już zegar mechaniczny
Zegar słoneczny na Bramie Chełmińskiej (1704 - około 1830)

Nieistniejący
Zegar słoneczny przed Bramą Klasztorną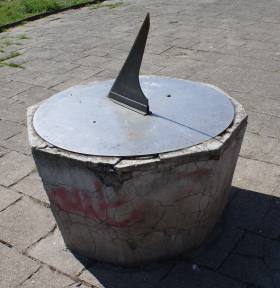 NIEISTNIEJĄCY
Zegar ustawiony z okazji 500 rocznicy urodzin Mikołaja Kopernika w 1973 roku.
bardzo zniszczony zegar horyzontalny. Lokalizacja zegara – szerokość geograficzna 53°0'29.42"N długość geograficzna 18°36'13.596"E brak naniesionych oznaczeń. Typ zegara horyzontalny o orientacji północnej. Średnica 1m wysokość nad ziemią 0,6m.
Zegar usunięty w 2012 na jego miejscu postawiono minę a plac nazwano Skwerem Oficerskiej Szkoły Marynarki Wojennej
Zegar słoneczny przy ul Łaziennej 2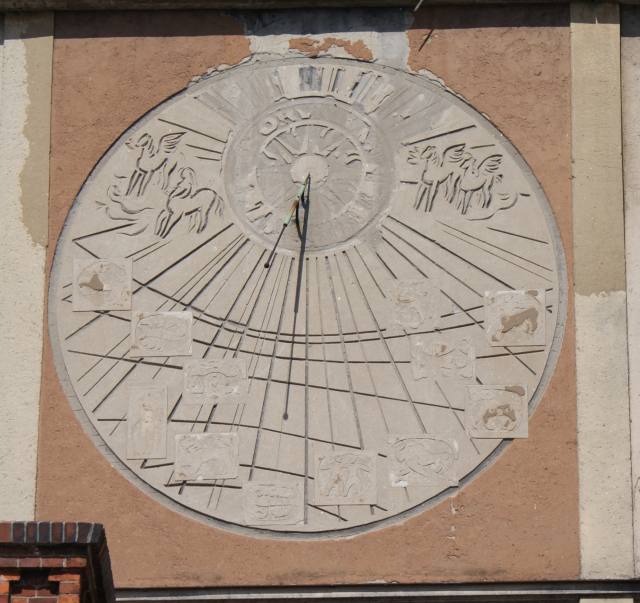 zegar na fasadzie od strony Bulwaru Filadelfijskiego autorstwa Lecha Popielowskiego. Lokalizacja zegara – szerokość geograficzna 53°0'30.732"N długość geograficzna 18°36'28.289"E zegar naniesione ma godziny arabskie. Jest to zegar wertykalny o orientacji południowej. Jego wymiary to 4m x 4m i umieszczono go na wysokości 6m. Zegar został wykonany w 1965 roku. Przy zegarze została naniesiona inskrypcja THORVNIVM oraz na zegarze naniesiono znaki zodiaku.
Zegar jest zniszczony obecnie około czerwca 2018 została zdjęta wskazówka. Kamienica na której powstał zegar posiada 20 właścicieli więc ciężko jest dokonać remontu elewacji.
Zegar nie jest wpisany na listę zabytków.
Zegar Sgraffito wzorowany na zniszczonym zegarze z Zamku Królewskiego w Warszawie
Zegar słoneczny na Auli UMK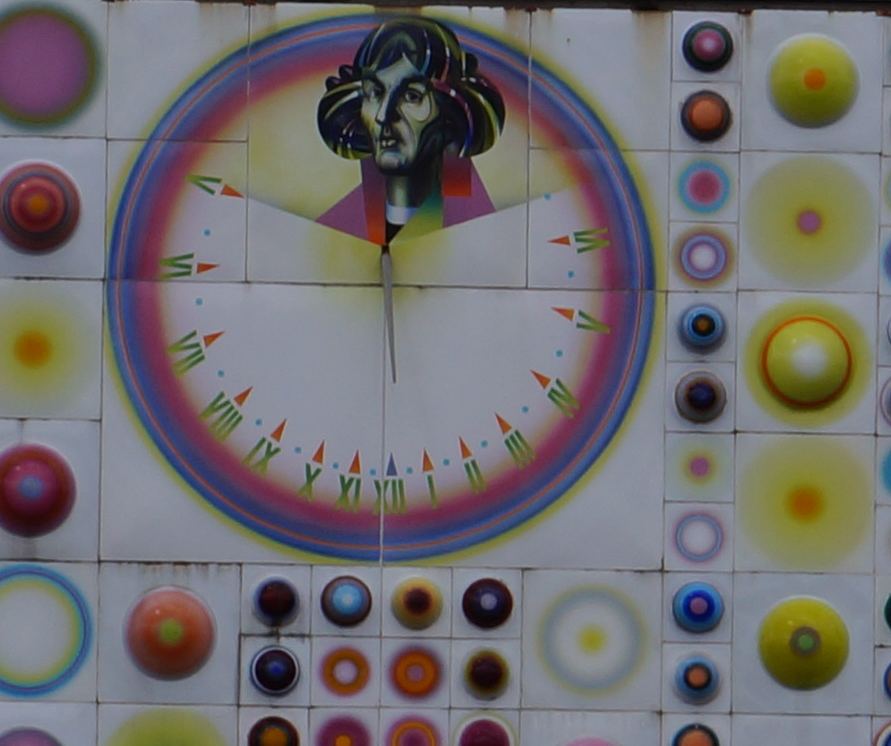 zegar na fasadzie od strony ul. Gagarina z 1973 roku. Lokalizacja zegara szerokość geograficzna 53°1'5.771"N długość geograficzna 18°34'20.478"E zegar naniesione ma godziny rzymskie jest to zegar wertykalny o orientacji południowej o wymiarach 2,5m x 2,5m na wysokości 9m. Autor projektu oraz wykonawca Stefan Knapp.
Zdjęcie wykonane podczas iluminacji ściany.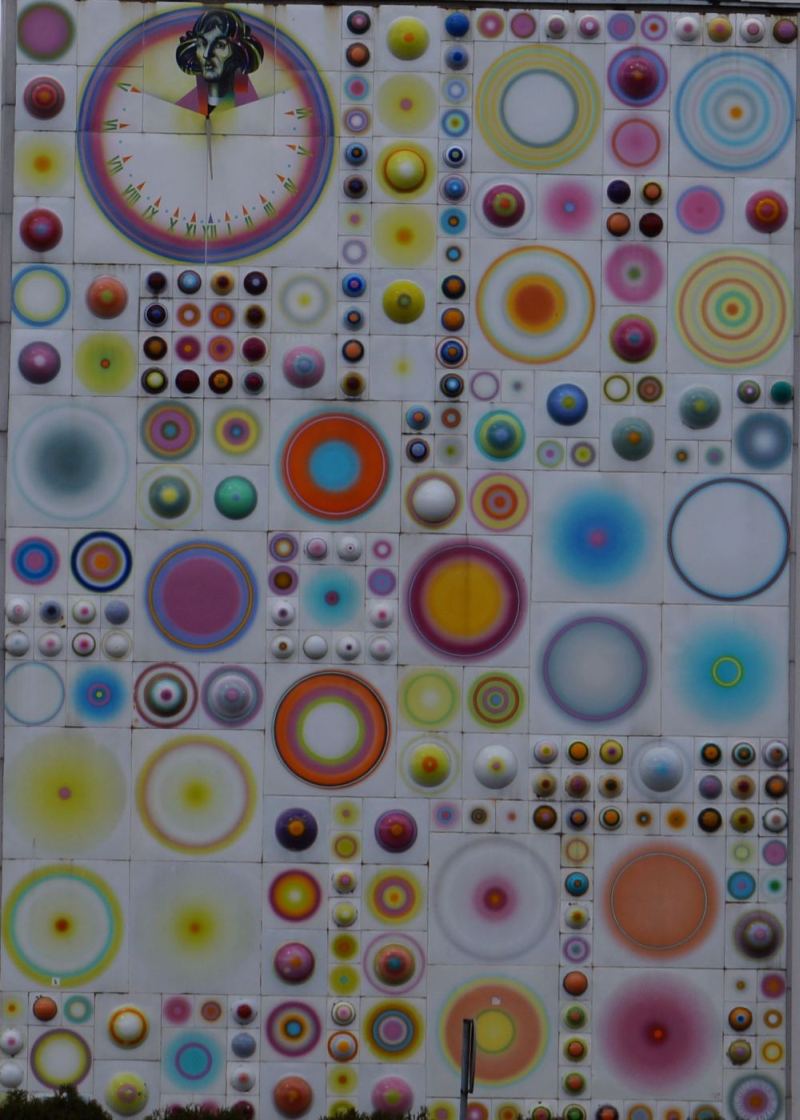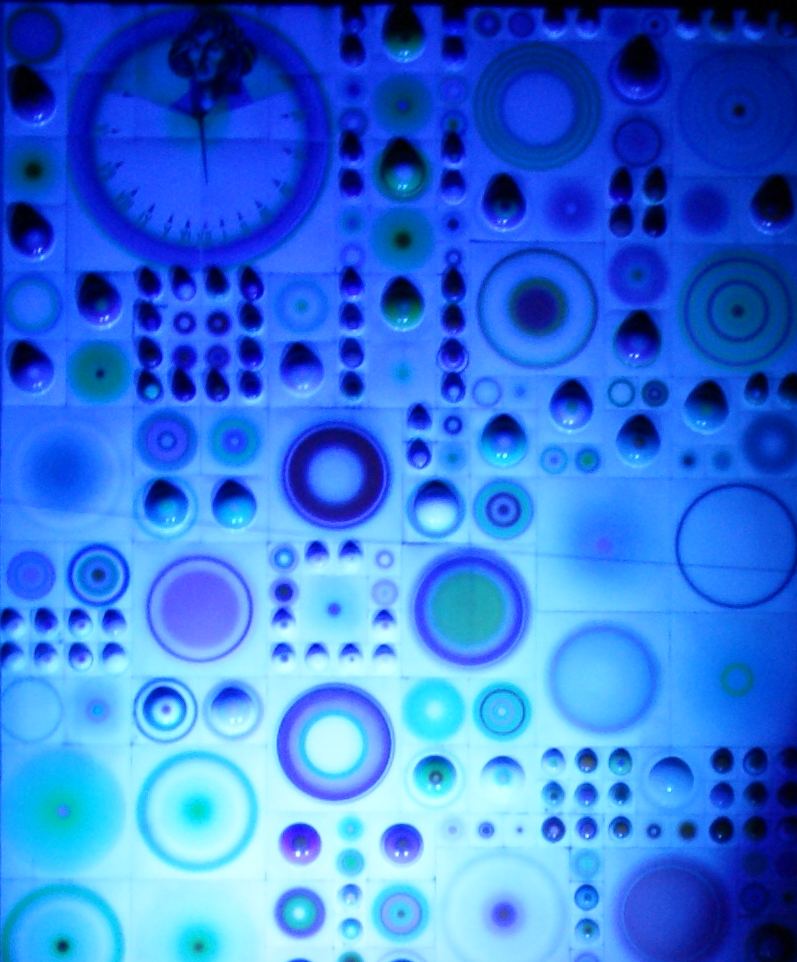 Zegar słoneczny na fasadzie jednej z kamienic przy ul. Św. Katarzyny,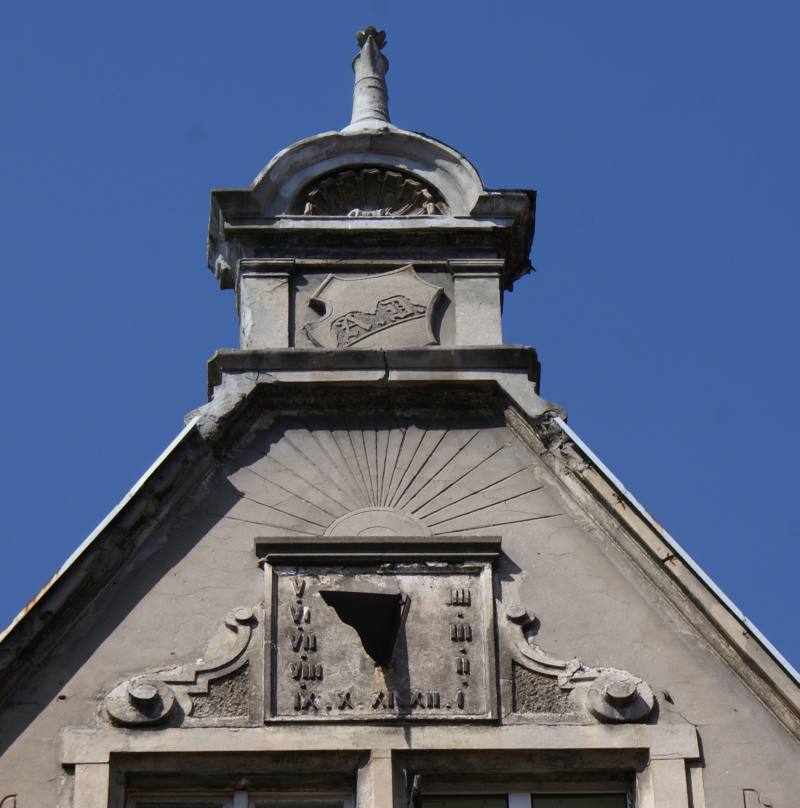 XIX w. Lokalizacja szerokość geograficzna 53°0'48.298"N długość geograficzna 18°36'44.501"E na zegar naniesione ma cyfry rzymskie. Orientacja zegara jest wertykalna zaś orientacja południowo wschodnia. Wymiary 0,8m x 0,8m wysokość nad ziemią 13m. Zegar został wykonany w 1891 roku .
Zegar słoneczny przy placu Rapackiego – Dolina Marzeń - GNOMON 1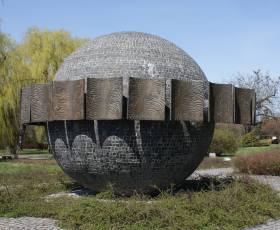 Uszkodzony brak wskazówek na rarczach!!
zaprojektowany przez Ewelinę Szczech-Siwicką i Henryka Siwickiego – jest to zegar analemmatyczny wykonany w 1973 roku w pięćsetną rocznicę urodzin Mikołaja Kopernika. Posiada kalibrowaną podziałkę w kształcie cyfry 8 na niej odpowiednio dla danego dnia roku ustawiono pręt który swoim cieniem wskazuje określoną godzinę. Lokalizacja zegara – szerokość geograficzna 53°0'30.303"N długość geograficzna 18°35'56.682"E na zegar naniesione oznaczenia arabskie. Typ zegara równikowy orientacja południowa. Wymiary 5m x 4m – ustawiony na ziemi.
Zegar jest zniszczony pręty wskazujące godzinę zostały skradzione. Skradziono również dwie tarcze. Tarcze zostały odnowione jednak osobie wykonującej grawerkę na jednej z tarcz drgnęła ręka, a na drugiej tarczy została odwrotnie nałożona matryca więc tarcza została błędnie wykonana.
Zegar słoneczny w Ogrodzie Zoobotanicznym –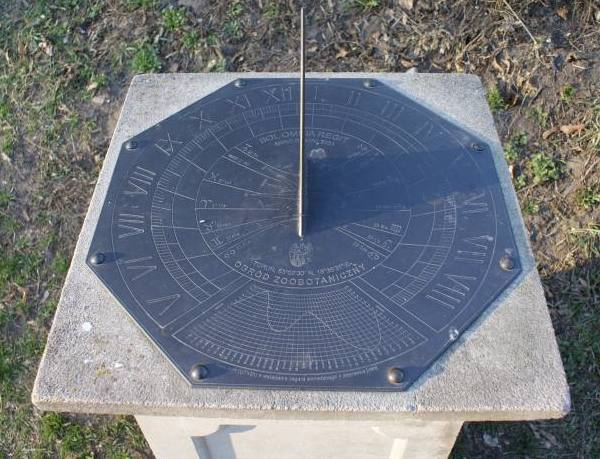 zegar horyzontalny o orientacji północnej usytuowany na postumencie
z piaskowca. Autorstwa i wykonania Marka Szymocha. Lokalizacja zegara – szerokość geograficzna 53°0'32.285"N długość geograficzna 18°35'30.419"E zegar naniesione ma godziny rzymskie. Jego wymiary to 40cm x40cm wysokość 1m. Data powstania 2003 rok.
W listopadzie 2012 r. zegar został usunięty, a na jego miejsce ustawiono morską minę kontaktową.
Zegar słoneczny – osiedle na Skarpie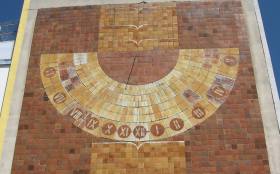 znajduje się na budynku ul. Wyszyńskiego 17 szerokość geograficzna 53°1'10.622"N długość geograficzna 18°40'50.76"E zegar naniesione ma godziny rzymskie jest to zegar wertykalny o orientacji południowej o wymiarach 9mx15m na wysokości 7m. Powstał w 1980 roku
Zegar słoneczny na kamienicy przy ulicy Konopnickiej
Wydział Nauk Ekonomicznych i Zarządzania UMK

Zegar słoneczny rozpowszechnił się w latach 604-606 po wydaniu przez papieża Sabinianusa nakazu umieszczania zegarów słonecznych na każdym kościele. Miało to pomóc regulować czas nabożeństw. Niestety z tamtych czasów zachowały się jedynie nieliczne okazy.
Pierwsze zegary słoneczne powstały najprawdopodobniej 5000-3500 roku pne
Pierwsze urządzenie składało się z pionowego kija a długość cienia dawało wskazanie o porze dnia
3500 lat pne w starożytnej Mezopotamii obecnie południowo-wschodniej części Iraku powstaje cywilizacja Sumerów
2500-2000 pne Babilończycy i Egipcjanie budowali obeliski w kształcie smukłych czworoboków. Budowle te rzucały cień który tworzył zegar słoneczny umożliwiający obywatelom dzielenia dnia na dwie części pokazując południe. Pokazywał również najdłuższy oraz najkrótszy dzień w roku
800 lata przed naszą erą – najstarszy znany zegar słoneczny zbudowany w Egipcie. Składa się on z bazy z podniesioną poprzeczką na jednym końcu. Na podstawie wypisana jest skala z zaznaczoną podziałką dzielącą na 6 pól poprzeczka umieszczona jest w kierunku wschodnio-zachodnim na wschodnim krańcu pokazuje rano a na zachodnim końcu pokazuje godziny popołudniowe. Cień poprzeczki na podstawie pokazuje czas.
300 lat przed naszą erą kapłan babiloński Berossos skonstruował ulepszony zegar słoneczny w postaci półkolistej czaszy, z której obrzeża wystawał poziomy gnomon. w ulepszonej wersji tego zegara usunięto większą część czaszy pozostawiając tylko ten jej fragment po którym wędruje cień gnomonu.
290 – pierwszy zegar słoneczny w Rzymie wykonany z Samnites
250 pne – w Grecji rozwijają i unowocześniają zegar słoneczny wykorzystując swoją wiedzę z geometrii
Apollonium z Perg rozwija zegar używając powierzchni stożkowej na której wpisane są linie z godzinami co zwiększa jego dokładność
Ptolemeusz używa analemma, urządzenia które umożliwia cienie do przewidywanego geometrycznie na płaskich powierzchniach pod różnymi kątami do poziomu
164 pne Pierwszy zegar słoneczny skonstruowany dla miasta Rzym zaprojektowany przez architekta i inżyniera Marcus Vitruvius Pollio który był twórcą wielu zegarów słonecznych, z których niektóre były przenośne i opublikowane w jego dziele De architektura
100pne
W Atenach zostaje skonstruowana wierza wiatrów. Jest to ośmiokąt który zawiera osiem zegarów słonecznych.
Po narodzeniu Chrystusa
100 rok naszej ery. Zauważono że cień rzucany przez obiekty skośne jest dokładniejszy niż cień rzucany przez pionowy obiekt. jeśli cień powierzchnia na którą rzucany jest cień jest równoległa do osi Ziemi to kierunek jego cienia w danej porze jest stały niezależnie od pory roku
150 rok wprowadzono trygonometrię do matematyki i w ten sposób dostarczono narzędzia do rysowania prostych lini godzin za pomocą obliczeń arytmetycznych zamiast bardziej uciążliwych konstrukcji geometrycznych. Metoda ta zostanie wykorzystana przez Arabów, a później przez europejskie zegary słoneczne.
1200 AD Ab u al-Hasan opisuje konstrukcję linii czasu na powierzchniach walcowych i stożkowych i wprowadza równe godziny dla celów astronomicznych

XIV wiek – najstarszy zegar słoneczny znajdujący się w Polsce znajduje się w Stróżyskach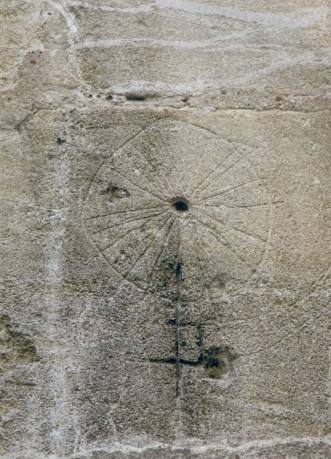 1300
Pierwszy zegar mechaniczny – duży żelazny szkieletowej konstrukcji, napędzany za pomocą odważników. Funkcją pierwszego zegara europejskiego nie było wskazywanie czasu dla miasta ale do prowadzenia tarcz która dawała czas astronomiczny oraz dźwięk co godzinę. Znajduje się one w klasztorach i publicznych dzwonnicach. Najstarszy zachowany zegar zbudowany w 1386 roku Katedra w Salisbury w Angli.
1500-1800
Wielka epoka europejskich zegarów słonecznych. Zegary pokazywały równe godziny
1635 AD
Galileo opracował zegar używając wahadłą jako elementu czasomierza
1656
Pierwszy model zegara wahadłowego zakończony Christian Huygens z Holandi. Wykorzystując wahadło poprawił dokładność nowych zegarów
1777 AD
Francuski generał Lafayett chce wyrazić swój szacunek i podziw dla swojego sojusznika i przyjaciela generała Jerzego Waszyngtona w czasie amerykańskiej rewolucji i podarował mu srebrny zegar słoneczny Explorer
1700 zegarki mechaniczne zaczynają wypierać zegary słoneczne nie potrzebują one słonecznego nieba są jednak zawodne i potrzebują do regulacji zegarów słonecznych.
1800
Mechaniczne zegary stają się wystarczająco dokładne i niedrogie. Z powodu rotacji ziemi miasta 20 lub 30 km na wschód lub zachód muszą ustawiać zegary nieco inaczej oraz istnieje przesunięcie czasu spowodowane różnicami w zamieszkaniu
1884
Kolej staje się preferowaną metodą podróży wymaga to stworzenia rozkładu jazdy. Wzdłuż lini kolejowej nie może być różnych miast z rożnymi zegarami które pokazują inny czas. Powodowało by to ryzyko zderzeń i nieporozumień
Tego roku odbyła się konferencja zakończona porozumieniem o podziale Stanów Zjednoczonych na cztery strefy zasowe każda o 15 stopni szerokości – Wschodniej Srodkowej Górskiej i Pacyficznej wszystkie stacje w strefie czasowej posiadaja ten sam czas gwizd pociągu staje się sygnałem do ustawiania zegarków
1979
Założyciel Ścisła zegary słoneczne LLC zaczyna projektowanie budowę i testowanie różnego rodzaju precyzyjnych zegarów słonecznych. Projektowanie programu komputerowego dla każdego poważnego rodzaju zegara słonecznego.