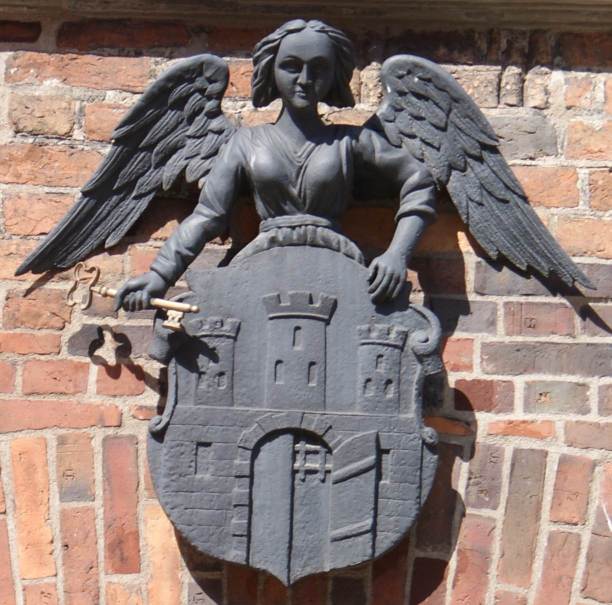 Zbliżał się rok 1500 a liczne klęski spadające na miasto nie zapowiadały nic dobrego. Zaczęła panować powszechna opinia, że rok ten będzie rokiem ostatnim. Niebo było bardzo zagniewane na mieszkańców i chciało ich ukarać za grzechy i czyny niegodne. Mędrcy miasta zaczęli szukać sposobu na ubłaganie niebios i przywrócenie łask. Po wielu dniach narad obmyślili, że ofiarują na chwałę Pana dar, którego nikt w kraju nie widział, a będzie to największy dzwon w Polsce.
Poprosili więc miejscowego ludwisarza Marcina Schmidta by stworzył dzieło nad dziełami, które swoją świetnością przywróciło by miasto do łaski Pana. Ludwisarz przyjął zlecenie na chwałę Boga i wkładając całe serce w swe dzieło stworzył ogromny dzwon ważący ponad 7 ton o średnicy większej niż ramiona największego męża 2.17m i wysokości większej niż największy człowiek około 3m. Aby dzwon godzien był Stwórcy przyozdobił go czterema płaskorzeźbami:
św. Jana Chrzciciela - patrona miasta
św. Jana Ewangelisty - patrona katedry
św. Barbary - patronki ludwisarzy
św. Katarzyny - patronka prostego ludu.
oraz wyrył słowa na chwałę Pana.
ANNO DOMINI MVC XXII DIE SEPTEMBRIS EGO TUBA DEI IN LAUDEM DEI ET SANCTORUM JOHANNIS BAPTISTAE ET EVANGELISTAE PATRONORUM HUIUS TEMPLI FUSA SUM
co znaczy:
Roku Pańskiego 1500 22 dnia września ja, Trąba Boża, ku chwale Boga i Świętych Janów Chrzciciela i Ewangelisty, patronów tej świątyni, zostałam odlana
Jednocząc swe siły torunianie umieścili dzwon na wierzy katedry św. św. Janów a Pan widząc jedność i trud z jakim wykonali dla niego dar który wzywał mieszkańców na spotkania w domu Bożym a jednocześnie sławił jego imię. Zesłał mieszkańcom Anioła o twarzy Anielicy który miał otoczyć miasto opieką i ciepłem oraz utrzymać jedność która połączyła ludzi pracujących przy budowie dzwonu. Dał również Aniołowi klucz do miasta i nakazał objąć miasto swoimi skrzydłami.
Skrzydła Anioła do dnia dzisiejszego rozpościerają się nad miastem Toruń jego domami i basztami, chroniąc je przed zniszczeniami oraz klęskami.
Herb przedstawia Anioła trzymającego w jednej ręce klucz oraz trzymającego przed sobą tarczę na której wyryta jest brama wraz z kawałkiem muru obronnego i trzema basztami. Baszty mają symbolizować siłę Torunia wspomaganą Anielską potęgą. Złota brama której jedna część jest otwarta a druga zamknięta symbolizuje że Toruń to bogate kupieckie miasto które otwarte jest dla gości oraz zamknięte dla wrogów przed którymi opuszczana była krata i zamykana wrota.